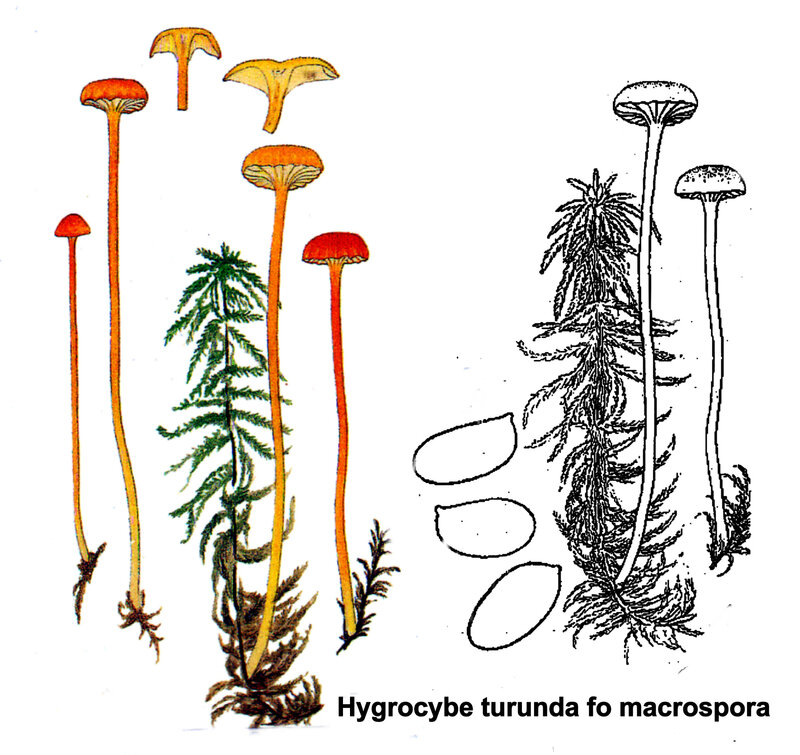 Hygrocybe turunda var macrospora Hongo, Journ. of Japanese Botany 31-5, May 1956
キミズゴケノハナ
- Totus fragilis ; pileo 8-23 mm lato, late convexo, demum expanso, vel centro leviter depresso, non viscido, arido, e auratio flavo ("orange chrome", "orange", "cadmium yellow" or "lemon chrome"), squamulis minutis tomentosis disco magis aggregato ornato, margine astriulato, crenato, carne tenui, pellicula aurantiaca, contexto flavida, inodora et insipida ; lamellis decurrentibus, subarcuatis, latis (1.5 - 4 mm), distantitubus [ L=13-16, l=1-3(6)], pallide luteis, vel cremeis, crassis; stipite 6-11.5 cm longo, 1,5-3 mm crasso, aequali, glabro, tereti, pileo concolore, basi pallidiore, farcto, vel solido; sporis ellipsoideis vel subcylindraceis, 10-15 x 6-7,5 µ vel 12-16,5 x -6-7,5 µ.

- Microscopic characters : spores hyalines under the microscope, ellispsoid to subcylindric, smooth, nonamyloid, 10-15 x 6-7,5 µ or 12-16,5 x -6-7,5 µ, basidia four-spored, 40-48 x 10-11 µ; cheilo and pleurocystidia none ; gill trama subparallel ; pileus trama homogeneous beneath a turf like covering of the surface hyphae.
- Habitat ; gregarious to scattered, among Sphagnum cymbifolium, Ishiyama Hiratsuchô, June 11, 1955; Ishiyama-dera July 4 (type) and July 14, 1955; Ishiyama Imodani-chô, Ôtsu-city, August 24, 1955, endemic (Ômi).
This variety is easily recognized by the non-fuscecent squamules on the cap as well as by its larger spores. Hygrophorus turundus var. lepidus Boud. is somewhat close to the present variety, but is very likely conspecific with H. canthatellus Schw. judging from Boudier 's illustration (Bull. Soc. myc. Fr. 13 pl 1 f. 2, 1897). In many respects the present variety also approaches H. miniatus var. sphagnophilus Peck.